 T-Shirt Contest Winners: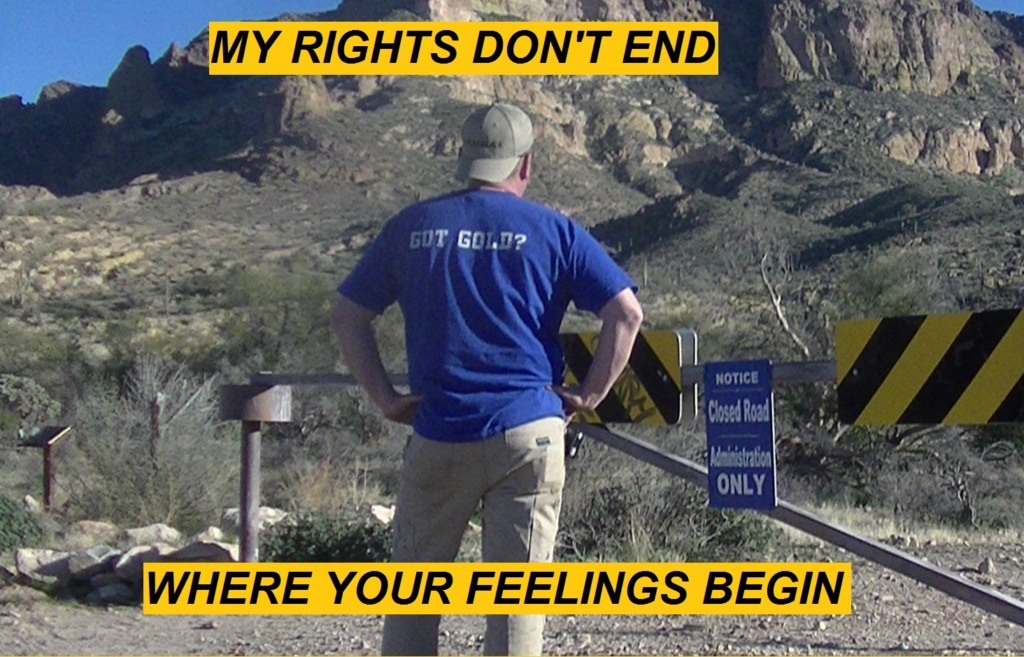 Congrats and thank you to all who submitted your ideas. We had some outstanding designs and sayings this go 'round.
1st Place: Matt McMcauliffe
"My rights don't end where your feelings begin"
Matt is an AMRA Board member so he will not be receiving anything other than another request to donate immense quantities of his time and energy for the remainder of his life to AMRA. We will be giving this prize to another below.
2nd Place: Rowly Bettencourt
"Turbidity starts with a politicians pen"
Rowly has donated access to two of his claims down in San Luis Obispo to AMRA and has a lifetime membership. We will be sending Rowly a nice little shirt/hat care package. Rowly, send Stacy your address and Shannon and your shirt sizes please. stacys@americanminingrights.com
3rd Place: Rod Wilkinson
"I would rather trust a miner with the environment than a politician with my freedoms"
We are giving Rod a two year membership and a nice little care package. Please send us an email Rod.
We are adding an additional winner due to the above winners already having lifetime memberships….
4th Place: Patrick O'Masters
Actually the two submissions Patrick submitted we loved and are likely to do both.
One is a picture of a scenic background with the saying
"This land is your land"
and……..
Mineral lands of the public domain, both surveyed and unsurveyed, are hereby declared to be free and open to exploration and occupation by all citizens of the United States" 1866 Mining Act
Patrick will receive a 1 year membership and a care package.
Thank you everyone and we'll get on these shirts. We hope to have them available at the Las Vegas show!