 We wanted to share some research we have been doing on a particular place we believe has some virgin ground.
This began as a story told to one of our friends about when this man was a child (nearly 50 years ago) his grandfather took him to… a particular creek and while the young boy was playing in the creek, the grandfather walked up to a bench above the creek, dug in the dirt and came back with a leather pouch filled with nuggets.
We knew the approximate location and decided to do some research. If you look closely at this picture, note the creek, a few dirt roads and sparse vegetation. Now………look closer. See all the holes dug? This is a section of private property and the owners of the property have dug literally thousands of holes on their own property "chasing" the old ground. The holes do not extend beyond the private property……….but the bench placer does.
John and I were out here last week and did in fact find river cobbles on the bench across from the private property, on BLM administered land which is claimable.
So what to do now? We dig. We punch holes on the bench across the creek from the private land and search for old ground.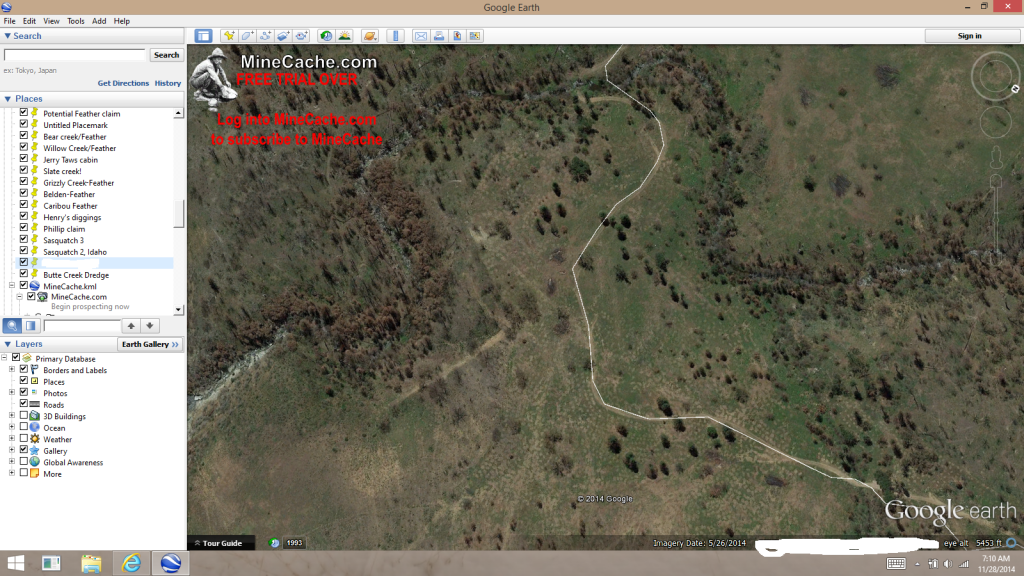 We wanted to share this with you on how we research some of our claims and how we find "old ground", ground which was missed by the original miners in the 1800's.
This particular creek has several lode mines and was very well known for large, coarse gold. We tested the creek and found some fine gold in every pan, but we were not prepared to dig large holes during the prospecting trip. We have also found another bench just upstream from this overhead shot and believe it has not been mined.
We have shot video of this trip and will be completing the video once we go back in a week or so. We hope to show everyone some of that large coarse gold.
We use Google Earth quite a bit, it can show you a perspective you cannot see from the ground.