Update Sunday, July 22nd, 12:45 pm:
Yesterday little brown envelopes were placed on several of our vehicles. In those were several things.
1) a "warning notice" from the LEO stating we were dredging without a PoO and which, he said days earlier this document (should we be given one) was only that we agreed to disagree, it was only for documentation.
2) a "notice of non-compliance" stating the same thing.
3) an "incident report" which states again, the same thing, but this time it was only handed out to the AMRA dredges (3) on the river, not to the other miners and it states on this document that it is a "misdemeanor" instead of the citation (like a parking ticket) stated in their own governing documents and as per their own LEO Brooks Beegle.
4) a PoO form to fill out to "come into compliance".
It is quite interesting that the level of alleged offense was escalated to a misdemeanor and only given to AMRA. Seems a bit … how do we say it….discriminatory and harassing? I've now missed three full days of mining, and when you average ounces per day, it adds up pretty fast the losses you incur for this material interference.
They are giving us until noon tomorrow to remove our dredges and stop all operations or face potential arrest and now criminal citations.
I'm wondering to all the people reading this, are you sick of the government telling you that you cannot do anything without their permission? Our activities are similar to one who roto-tills their garden. We dredge with lawn mower sized motors, do not add any pollutants and loosen the gravels creating fish habitat to get the gold we have a deed to obtain. It is real property which we mine, we have deeds. Nothing is added, but we do remove 98% of all mercury (if it is present) all trash like the old beer cans we already have and so much fishing lead we can make our own dive weights each year. Yesterday I found a 1920's butter knife.
Yesterday, I filmed about 100 fish which are now calling our little hole home (about 4′ deep) in the river with our GoPro. Before we started, there were no fish, now there are over a hundred, but they say we create an impact for the fish. Yup, we agree, but it's a positive impact as proven by science and I don't know….umm our own eyes and decades of experience.
Last night in camp, we compared pictures from the 4 years we've dredged up here and to be honest folks, I could not tell where I dredged in previous years because Mother Nature erased any evidence of our holes each spring with the floods and Spring runoff…but we create a significant disturbance according to them. Even the scientific report by Idaho Fish and Game stated we are "deminimus" meaning no harm.
Let's challenge you fine folks reading this and tell us where in this picture the area was dredged just last year?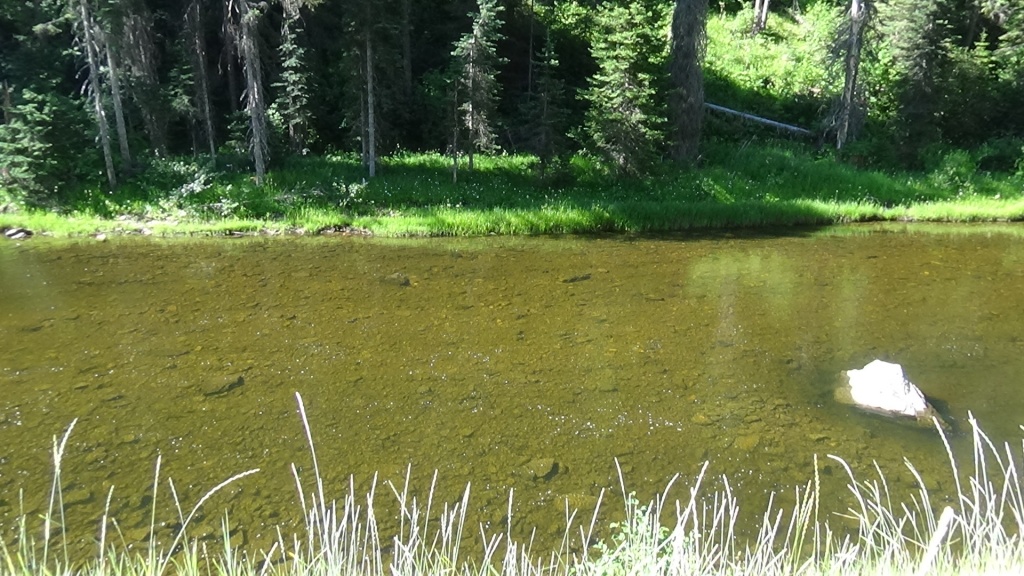 Why is the government so afraid to have an adult, polite conversation with us miners who are stake holders, own the mineral rights and want to voice our opinions and grievances against an over-regulatory USFS up here. This is the ONLY USFS division out of 155 National Forests which require a PoO for suction dredging. 1 out of 155, let that sink in. Take into consideration that the Supervisor up here is mandated by their own governing manual (what we call the 2800 manual) under 2817.3 to take a majority of the voices of the miners, use past experience and also sound scientific studies in making regulatory decisions. Did Ms. Probert do that? No.
There were nearly 200 people in opposition to her regulatory scheme (all of the miners) and a handful of radical environmental groups which were in favor. Doesn't sound like Ms. Probert is aware of her own governing documents….but we are.
Why won't the USFS sit down with those they severely and adversely impact? Why don't they follow their own rules? Why can't they have an adult conversation with us? Why are they threatening arrest and citations to valid property owners which are not required by law to obtain her false permit?
It is time we all call our Congressman, our Senator, our Governor and start asking some questions. We would be happy to provide any lawmaker with the evidence of the acts Ms. Probert used to jam this down the throat of the public. Make the call to yours.
So we have until tomorrow at noon to either get in lock step with them on over-regulation, loss of income, asking permission for something that is virtually zero impact, but in fact helps fish habitat or they are going to do what? Like they did in Chicken Alaska and send in the SWAT teams for a bunch of unarmed, peaceful miners? Somehow I don't think it is the LEO who, just two days ago cited something about officer safety, but us, the public, on public lands just trying to make a living legally, with valid state permits who is concerned for their safety.
Ask yourself another question. Why have the Idaho Department of Fish and Game been "suction dredging to create fish habitat"? It's true, they see the value, but the USFS and Ms. Probert apparently listen to the radical environmental groups instead of the public, science, facts, truth and the miners, whom she obviously despises.
Tomorrow will be an interesting day….