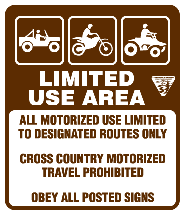 This is something we here at AMRA have been advocating and doing with local Sheriff's across California.  Excellent read.
EDITORIAL: Sheriffs, commissioners – stand up to the feds over road closures
It's time for the county sheriffs and commissioners in each Western Slope county to pass a resolution asserting ownership and jurisdiction over the entire county road system, including those historically used roads that cross federally controlled public lands. There's an old law that governed access to mining sites, logging sites, and just getting one from point to another. The law, called RS2477, was passed when the West was being developed and the federal government – strange as it sounds to us now – actually wanted people to have access to these lands.
Congress changed the law in 1976, but not before several RS2477 court precedents had been set. Court precedents cannot be repealed like laws can.
The first time I heard of RS2477 road issues was in 1987 while I was the editor of the Gunnison Country Times. A wealthy Guunison County landowner who had closed off access to a historically used road with a gate and a lock was ordered by the courts to leave the gate unlocked so that the public right of way would remain open. The road went clear through the landowner's land to the other side, where there were hunting grounds and recreation opportunities.
So, RS2477 works both ways: Private landowners cannot close public rights of way that cross their land, and the federal government cannot close public rights of way that cross federally managed (not owned) lands.
With 60 percent of the Western Slope locked up by the feds, the least they can do is allow us access to the land that we all love, respect and admire.
That's where the county sheriffs and county commissioners come in. Two well-informed public access activists, Grand Junction businessman Brandon Siegfried and Garfield County Commissioner John Martin, are making the rounds of county courthouses asking county commissioners to pass a resolution reasserting their control and jurisdiction over all historic county roads. Then they are asking the county sheriffs to reopen any such roads that have been closed by the Bureau of Land Management or the U.S. Forest Service.
Taking action is better than suing. First of all, it's less expensive. Second of all, the feds would have to take counties to court if they wanted to stop this process, and that would put the burden of proof on the feds to show that they had the right to close roads.
And that's something the feds could never prove before an honest judge.
Nothing in federal or state law allows the feds to close roads that existed prior to the creation of the BLM or the forest service.
Montrose County passed such a resolution more than 10 years ago. It was good to see Montrose County Sheriff Rick Dunlap at a Siegfried/Martin presentation before the Associated Governments of Northwest Colorado in Parachute last week. Maybe we'll get back some of those roads on the Uncompahgre Plateau that have been closed.
The fact that some citizens are allowed to comment on the "travel management plans" that the BLM and USFS uses as excuses to close roads just doesn't matter. A comment or a plan does not change a law or a court precedent. Some citizens even support these road closures, denying themselves access in the name of environmental purity, but that doesn't change law or precedent either.
It's time for the imperial federal government to quit dictating to counties what county roads are going to be open. It's time for each county board to take back their roads. It's time for the county sheriffs to physically reopen the roads and guard them against future federal vandalism.
– Ron Bain, Editor and Publisher