We've been pretty darn busy over the past several months.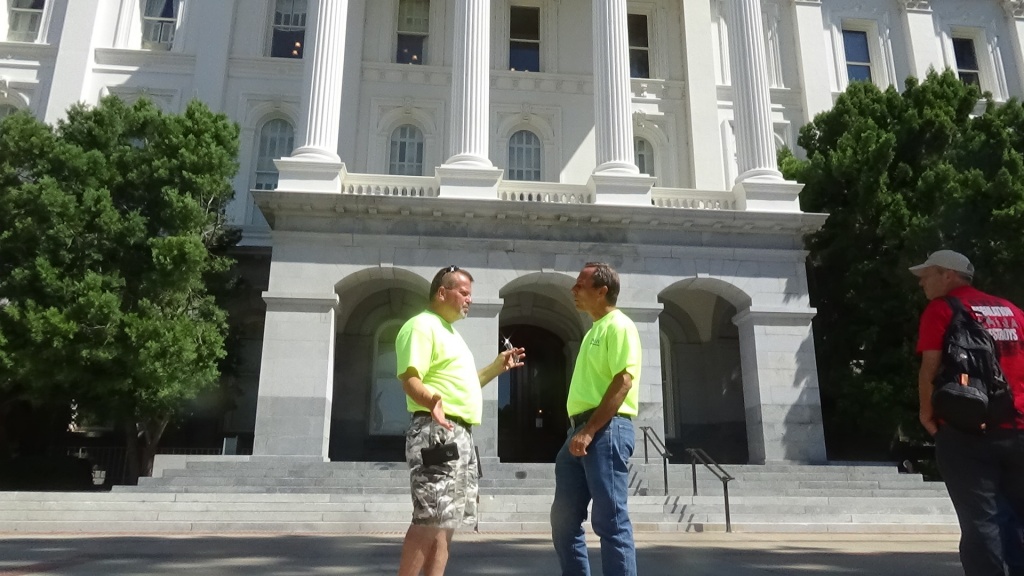 Jere Clements and Shannon Poe at the Walk4Liberty Rally at the capitol.
We walked 312 miles in 13 days to bring many of the groups facing over-regulation together.  The entire length of highway 49.  We've discussed doing this again next year with a different route and ending in Sacramento.
We held a protest at the California Water Board and definitely got their attention.  The state is claiming they WILL issue dredge permits, we just wanted to give them a little kick in the pants to motivate them.  We just learned from one of the politicians we met with after the rally at the capitol and who is helping us put pressure on the CAWB that they told him they are now "not" going to prohibit dredging on any waterway, creek or drainage which had a hole dug on it in the past 160 years. They had initially stated they believed ALL old time miners used mercury and if anyone disturbed the ground going back to 1849, they would prohibit dredging there.  Without any evidence, without any studies, without any facts (as we firmly pointed out multiple times).  Perhaps they consulted council as we advised and someone put the breaks on the prohibition based on their assumptions and not valid reasoning.
We've taught ALL of the children at the Greeley Hill school how to pan and they all went home with a vial of gold.  Preserving the heritage of California…
We had an outing at the Office in September and had a booth at the Coyote Fest in Coulterville where we taught even more kids (and big kids known as adults) how to pan.
Spoke at the Liberty Summit in Challis Idaho among other speakers like Ammon Bundy where we all focused on over-regulation and an out of control government intent on taking away our public lands.
We are working with 3 separate miners in Idaho on problems with the USFS.
We are working with 2 other, separate miners with problems with the USFS in Montana.
We are working with 4 miners in Washington with problems with the USFS.
We have sent over 20 FOIA's to the USFS in separate cases and man o man are there issues within the USFS.  More on this to come.
And we are working with 6 separate miners here in California on problems with bonding with BLM, problems with USFS and other mining related issues.
We are now in the planning and coordinating stage for our annual dinner (see dinner tab on the AMRA website) and it is going to be epic this year!
We've partnered with Minelab and they are hosting our Oktoberfest in Barstow October 12th and 13th at Slash X Cafe with a huge metal detecting hunt and giveaway of thousands of prizes including their newest metal detector (among many).
Idaho Conservation League's lawsuit:  We just received notice from the court in Idaho that the judge did not dismiss the case on the notice issue.  The notice issue is: under the CWA Clean Water Act, the party (ICL) would be required to send notice of intent to sue via certified mail prior to dredging.  That did not happen but the judge decided to give them the benefit of the doubt and said the email they sent, which Shannon Poe did not receive, sufficed.  The case goes on and is an important one.  Any radical environmental group can sue if the EPA does not enforce the CWA, which we feel they have no jurisdiction over this river, the state does.  The EPA, if they had the authority and believed there was a violation could have done something, but they did not.  Perhaps the EPA knows they do not have the jurisdiction over this waterway?  ICL obviously wants to take Shannon Poe down as he is quite vocal with mining rights and they do not like that…at all.  We will not go into detail on the plan for the defense of this case as we know ICL reads everything we post so we'll let them read it when the paperwork is filed.
It's been a busy year and we have 3 months left.
We greatly appreciate your support.