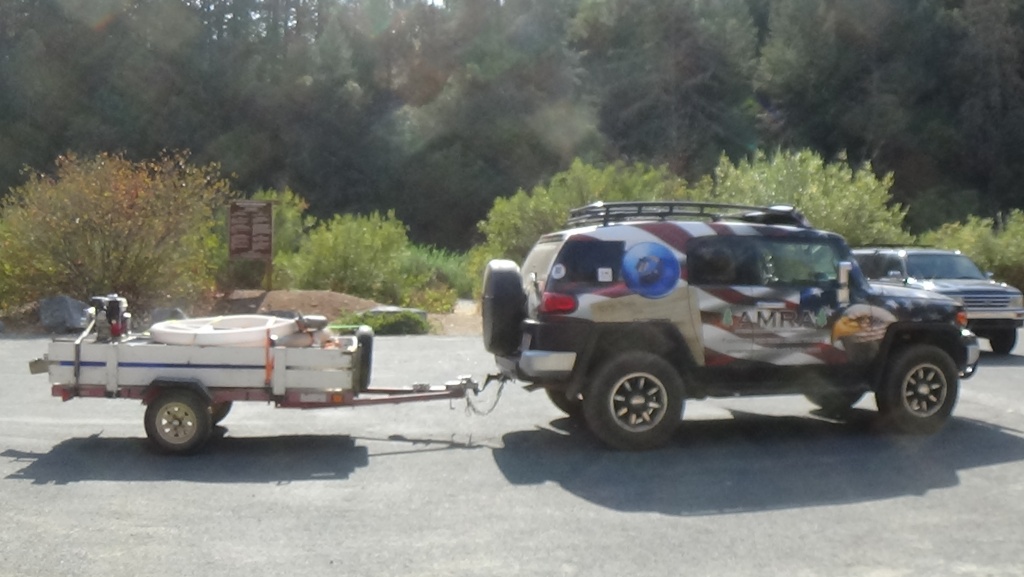 The picture here was taken today. This is in front of the Bear River sign at the entrance to the public area near Auburn CA. We drove there today and AMRA pressed to be included (on your behalf) in a meeting with Senatorial, Congressional, and Assembly staff members to hear how their policies and laws have adversely impacted the small mining community. This is the first time, to our knowledge where the small mining community got to address this in this kind of setting and not on the phone, or in hearings in Sacramento. Not all of the aides present represented politicians who've been involved with the suction dredge regulations and laws passed. Some were Democrat, some were Republican. The very first words out of our mouths today were this truth "we are not Republicans, nor are we Democrats, we are not here to make a political statement, we are here to present the facts".
We took a dredge with us, and yes, we know we were in violation of the law for having a dredge within 100 yards of a waterway. The meeting was held in the campground area with picnic tables right on the waters edge.
We gave about an hour long talk, with this show-and-tell item. Politicians generally pass laws without knowing specifically what the impacts of their laws are to those whom they affect. We clearly, and concisely explained the following, some in very fine detail:
We have not been able to legally dredge since 2009 in CA. We explained the moratorium, the various bills which were passed, the results of the studies and even though they came back as not hurting fish habitat, the moratorium remains in place.
This has devastated many towns in the rural areas of CA, has destroyed families hopes of sending their children to college, shuttered businesses and eliminated, in some cases entire towns. The only study we are aware of was put out by ICMJ and showed suction dredgers, who come from many, many other states to dredge CA spent on average about 64 million annually. They spend this money in gas stations, hardware stores, motels, cafe's and the like. We discussed Brandon Rinehart's case and the Ochoa case, which is now in its 7th or 8th year.
Mercury: Mercury levels have risen since the moratorium in 2009. Suction dredging removes 98% of the mercury and about 99% of lead.
They asked about mercury recovery from suction dredging and how that compares with the Lake Combie (Sierra Fund) project. We explained the differences between a "cutter dredge" (Sierra Fund) and a "suction dredge" (small miners). We informed them of the 2000 EPA program in California where the dredgers for that season turned in the mercury they collected, all 241 lbs of it in one season, voluntarily. That equates to over 100,000 grams. We then compared that to the 2 grams collected by Izzy Martin and their Lake Combie pilot program which received over 6 million dollars in grant money. The comparison is pretty stark and we did not make it a political argument, we didn't need to.
Suction dredging created revenue for the state with the money spent by the miners, but also through the permitting process from Department of Fish and Wildlife, that money has been lost for 8 years.
Suction dredging has been determined to be "less than significant" and not "deleterious" to fish or fish habitat. Dredging does not occur during spawning seasons and the mining industry is the single most regulated industry in the state.
We pointed out several dredging operations by states where they are "suction dredging to create fish habitat" like the two operations they performed this year in Idaho. We use the same hose as DFW when they stock rivers and streams with trout.
We took them over to the dredge and had them look into the dredge from the flare jet to the sluice so they can see it is an open device, no turbines, grinders or fish killing devices.
We explained how many miners supplement, or derive their income from mining their claims, and those claims have now become significantly less valuable and they cannot remove the underwater, and generally the best gold deposits on their real property mining claims.
Obviously, during this one hour discussion with these folks, there were questions, dialogue and there was more to it than we are writing here. We just wanted you to know that today, you had a voice with the politicians who've been passing bills which affect your life if you are a small miner in California. We have offered to set up a complete demonstration, on the lawn of the Capital if requested so they may see these operations are not just small, but beneficial to the state of California as a whole.
I want to thank Jere for driving all the way from San Luis Obispo to Colfax, taking a day off of work and putting up with me all day, then driving all the way back to SLO. He's a rare man and we are lucky to have him.
AMRA