 We had a productive conversation with the Stanislaus NF/USFS over road closures.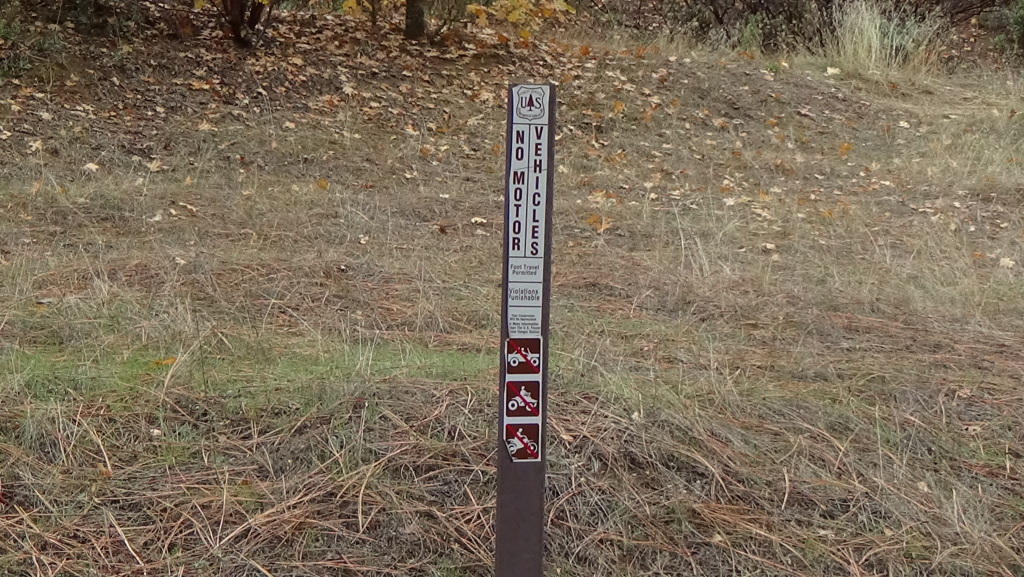 Two days ago, we had a lengthy discussion with District Ranger Jim Junette over the road closures in his 900,000 acre district. The rim fire closure issued by Susan Skalski (now retired) expired on November 18th. The roads are open and we verified this by driving a substantial portion of this district. Mr. Junette (who owns two suction dredges), during our conversation stated Federal Mining Claim owners do have a fundamental right of access to their claims. This is very different from the USFS's former stance on this issue earlier this year when we met with Skalski, Junette and several other USFS staff. At those meetings we provided them with numerous copies of court decisions and Federal laws as they pertain to access. Apparently they read them and agree that mining claim owners have a fundamental right of access where the general public does not.
There is still one area which is closed due to safety issue's of trees still posing a danger to those driving on the roads and the discovery of an "archaeological site" which was discovered after the fire. That area is the Spinning Wheel area where East Bay Prospectors have a few claims. Mr. Junette has agreed to grant the club access to their claims with a special use permit. This is the only area we know of which has limited access.
Where we differ is under the TMP, Travel Management Plan. On December 15th, a majority of the roads in this district will be closed until April 15th. While Mr. Junette did admit the mining claim owners (including all gold club members, AMRA members and other Association members) have a right of access to their current claims, he does not believe any miners can access those roads after December 15th if they do not possess a current, valid claim. Meaning, openly looking for a new claim and legitimately prospecting on lands open to mineral entry is not allowed between December 15th and April 15th.
Our opinion is exactly the opposite. We believe, and the courts concur, (see US -v- Hicks) as a miner looking for mineral deposits on land open to mineral entry (1872 mining act passed by Congress and signed by the President) that we have a fundamental right of access for the purpose of "legitimately prospecting". There are numerous other court cases which conclusively state there is a right of access for prospecting and we won't bore you with all of these legal decisions.
They (USFS) are saying we cannot drive on these hundreds of thousands of acres of closed roads for the purpose of prospecting new claims and as of December 15th, will be cited if driving on them. What their opinion declares is that a law passed by Congress is null and void based solely on someone's opinion who works for a public service department. They are not Congress, nor are they the President. Nobody but those two can declare a wilderness unit and declaring public lands are not open to the public. This is precisely what they are doing. Blocking the public, and more specifically miner's from accessing their own public lands for the purpose of legitimately prospecting for new mining claims.
We are not encouraging anyone to challenge this, but we will. We are professional miners, and as such, we constantly are looking for new rich grounds. To do this, we need access. Mr. Junette stated we could walk in. After I told him that walking from the bottom of the Tuolumne river to the top of Corral Creek (about 5 miles and 2000 feet straight up) would constitute an "undue burden" he stated that is what would have to happen. Under 2813.14 of the USFS manual which Mr. Junette should be well versed on, it clearly states:
"The right of reasonable access for purposes of prospecting, locating, and mining is provided by statute. Such access must be in accordance with the rules and regulations of the Forest Service. However, the rules and regulations may not be applied so as to prevent lawful mineral activities or to cause undue hardship on bona fide prospectors and miners".
In US -v- Hicks, an 8th Circuit court decision, Mr. Hicks (whom we been in contact with) was cited for this very thing. He was riding a motorcycle to access a mining claim on a closed road. The courts ruled conclusively that Mr. Hicks had a fundamental right of access.
AMRA was formed to educate the public on their rights and the rights of the small mining community. Are you tired of this yet? Join us, for a small tax-deductible donation to the miner's legal fund, you gain access for one year for the whole family to proven gold claims in Idaho (2), Arizona (2) and California (20). We are still actively expanding claims and plan to be in Oregon next month for a few outside of Ashland.
Join us, help us stop this insanity.